Building Your Resilient Paradise
We have unprecedented fires raging across Australia. So, we are pioneering new methods of disaster preparation and re-discovering the wisdom of the elders.
Our first priority is to redesign communities and their gardens for safer shelter for all living creatures. Secondly, design to retard embers, absorb the radiation and protect water supplies. Thirdly, find ways to quickly restore food, water and habitat. Ultimately, we create a better design.
If you are planning to build a new home, stop everything now. Above all, design it to be disaster-proof. Set it well into the landscape, have a safe bunker and angle the roofline so embers can fly over and not get trapped.
Re-design your garden to withstand drought, repel heat and store water. Naturally hydrated soils are more resilient to disasters such as drought, flood and fire.
Shock often stuns us into inaction. Design a better future.
You can change your impact starting from today.
Preparation Helps Us Stay Sane
When we design for the worst, we actually reduce anxiety and get to live in a state of pleasant surprise.
Deeper Understanding = Better Preparation
Past catastrophes have taught us some methods of preparedness, but not everything. Last year was the hottest year on record for many countries. We are playing by new rules. This is not the new normal, this is a rude start to a big climate shift.
Recent wildfires have set new design rules. These wildfires didn't come from one direction like a wave of flames. They behaved more like storm clouds: tilting trees, turning them into flame throwers hotter than 1200k. Moreover, fire tornadoes known as Pyrocumulonimbus, shot live embers more than 30km ahead.
Combination of Threats
Ember attack, strong winds, thick smoke, severe heat and deafening noise combine to limit responses during a catastrophic wildfire. Burning roads and fallen trees trap people as they try to leave. In past years, some people have saved their homes by staying to put out the embers after the fire has passed. The intensity of recent fires has shown this to be dangerous unless you have a fire-proof bunker that meets the standard. In addition to the bunker you need enough oxygen, water, masks, food and the nerve to stay.
In fact, you will need food and water for days. The power will be down and you will probably have wildlife to tend and feed on your limited supplies. Best of all, be ready to share your limited resources with that neighbour who rarely talked to you.
"Sergeant Shenton described driving through "8 kilometres of inferno" as he tried to make his way out on local roads "with 30 metres of flames on both sides of me. It was just a very poor decision to stay and I would never stay again."
Pebbles, a family cat in Buchan Victoria, sheltered in the outdoor pizza oven. His whiskers burnt, but he survived.
Prepare Then Go
The traditional firebreak is not enough. At a minimum, we need to seal the building completely so no embers can get in. Firstly, the weakest points of a building are the roof and cavities underneath, especially under a wooden verandah. Secondly, shield the house from the intense radiation of the fire using either dense materials (big standing stones), rock walls or reflective shields (foil).
Fireproof materials include simple materials such as earth. Fire proof homes fit the landscape to hide from the fire.
Putting this knowledge together, we see a recurring theme: design with knowledge of the landscape.
Design Link
There is design link between passive housing, earthship technology and permaculture design practice. Passive housing insulates the home completely. Earthships connect with the dependable underground earth temperature.
Smart design looks different. It is possible to have a safe home. Fire safe homes fit the landscape, and positioned for good natural insulation and winter warmth.
Re-Design or Retrofit Your Shelter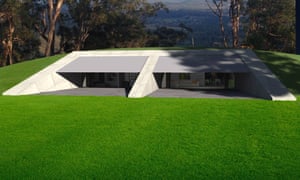 There are excellent designs by architects to reduce or deflect threats . These designs create homes with a smaller impact on the environment, and lower costs to build and use. Above all, they are durable and resilient.
Re-design Your Habitat
Forest Mitigates Climate
Forests mitigate climate. In fact, street trees help cool the hottest city in the world.
But during extreme fire threats, many people think if we remove the forests, we remove the threat. The common reaction is to increase back-burning, pull out shrubs and clear land with machinery.
But the truth is, the forest is one of the most important tools we have to fight heat, hold water in the landscape and fight climate change. Getting rid of the garden is not going to help keep the temperature down or maintain moisture. People who had only grass around their homes had it burst into flames. A home surrounded only by rock may be more fire-proof but it will also be extremely hot, devoid of wildlife. Jane Goodall warns about the dangers of humanity being divorced from nature.
Australian aboriginal people have specialised fire management techniques called cool burning where the fire extinguishes itself, and the grasses and trees are not structurally damaged. Not all the area is burned at once, it is burnt in small strips at a time. Even insects can escape the burn.
What Plant is Truly Fire-Retardant?
For years people have talked of 'fire-retardant' plants. But, anything that was once alive, will burn in extreme temperatures. As the fire intensity rises we need to re-design food gardens, add radiant heat blocks (these can be mud-brick or cobb walls). We also need more areas for wetlands. Surprisingly, wetlands and boggy soils sequester greater amounts of carbon than forests.
We have to question everything and, due to the urgency, we need to collaborate. Whilst we know "Plants with high moisture or salt content and/or low oil content will burn more slowly", we must now devote funds and time to plant research.
Can succulents and living ground covers help extinguish embers? Lets explore further how deciduous trees with low oil content absorb radiant heat at these unprecedented temperatures.
Involve Your Community
Members of your community doesn't have to understand the likeliness of a catastrophe for you to help to prepare for them. Consultation builds better preparation. Help your community to find ways to prepare that are simple and effective. For some people, this means trailing ideas, for others it means facilitating conversation. For researchers, it means building the body of knowledge for survival.
Coordinate a working group to help prepare homes helps the elderly and less-abled. Prepare to act when others are busy elsewhere. Some preparatory works, when booked by a neighbourhood, cost less than for individual home call-outs. Furthermore, community consultation enables us to develop strategies for local adaptation
During a disaster, a resilient community is able to:
reduce the negative effects of hazards on people, ecosystems and property
Establish coping mechanisms in stages (safe zones, evacuation centers, temporary accommodation and long term recovery support
After a disaster, a resilient community is able to:
recover from the hazard with minimal disturbance to the health (including mental health) of the people and animals
rebuild a functioning community system, including power, water, food, fuel, health and education provisions
develop from experience
design with experts and in consultation with community
Design builds security for a community and the natural world that supports them.